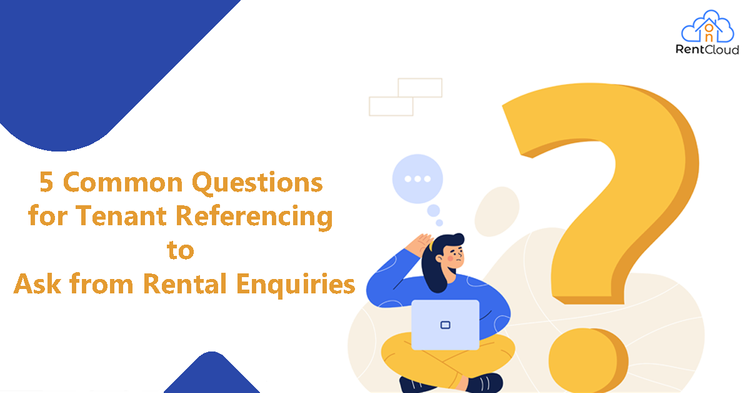 5 Common Questions for Tenant Referencing to Ask from Rental Enquiries
If you are someone new to the house renting domain, you might feel anxious about how to rent a house. Landlords also can be a bit unsure about finding the right tenant. How to choose a good tenant? What questions should landlords ask tenants? There are a multitude of factors to consider and what can prove useful is the process of tenant referencing.
What do you mean by tenant referencing?
Tenant referencing denotes the process that landlords or property agents utilise to discover and confirm relevant background information about a given tenant. Tenant referencing for property owners act as landlord reference checks that help determine the eligibility of a given person to become a tenant. Through this check, landlords can gain better assurance regarding the trustability of the tenants about aspects like their ability to pay on time, use of the rental property in the right way, and the probability of any criminal history.
What are the top tenant-referencing FAQs that you must enquire about as a landlord?
There are multiple facets about any prospective tenant that landlords need to contemplate during the tenant referencing process. Are you wondering about what questions should landlords ask tenants? Here are some of the key questions that you must enquire about from any individual as part of landlord reference checks before giving your nod to a rental agreement:
What do you do for a living?
This question is useful to realize the employment status and income levels of anyone who wishes to rent your buy-to-let property. The details about their job or business will help you gauge their approximate income levels and their ability to fulfill the rent, maintenance fees, and deposit requirements for the rental house. You can also get insights about whether the person is not involved in doing any illegal activities. Landlords can also ask for reference letter from the employers to get an added assurance about the occupational status of the prospective tenant.
Why are you looking for a new rental property to rent?
Getting to know the reason behind why one is seeking for a new rental property will help you understand elaborately about a person's motive. There are might be a variety of reasons that your prospective tenant needs a rented place. He/she might be new to the place and have recently shifted there for occupational purposes. There might also be chances that the previous landlord evicted them for some undesirable cause. If there is any illicit intent involved on the side of the tenant then such an enquiry can help you uncover it. As per the reason for the person's search for new rental place, you can inquire about aligning questions.
Do you have any family or pets who will accompany you to live in the rental home?
Another critical inquisition needs to be about how many more people will accompany the individual to rent the home. If they shall bring their family to stay with them at the rental property, it is critical to know about the number of members, their age, and whether your property can accommodate them appropriately. It is also imperative to know whether they have any pet that will reside in your rental property. You must check into the possibility of whether the prospective tenant's pet can cause any harm to your rental property and other furnishing items inside. It is best to ensure that there are least chances of any nuisance that can lead to troubles with the neighbors.
Will you be willing to permit landlord reference checks with past landlords?
In case the tenant has rented buy-to-let properties before from other landlords, you can conduct landlord reference checks. Thus, you must ask the prospective tenants about whether you have their consent to make enquiries with the past landlords. If the tenant is reluctant to allow you to contact his/her past landlord, there might be some foul play involved. Landlord reference checks can offer you elaborate insights regarding a person's suitability to become your tenant.
Are you okay to oblige to the requirements of the tenancy arrangement?
As landlords, different people have different set of conditions for tenants, in line with the legal framework, that they must comply. Your tenant must be ready to follow the rental application process and related obligations. You must inform them about the dos and don'ts and the documents that they need to provide. If there are any issues or ambiguities regarding the paperwork and legal formalities, it is better to discuss and clear them beforehand.
Important tips for tenants to enable them to undergo the tenant referencing process easily
Organise your paperwork adequately on-time
Notify the referees that you give during the landlord reference checks in advance
Be as direct and truthful with your answers as possible
Get in talks with suitable guarantor beforehand
Take into account your financial position for the probable rental expenses appropriately
Research properly about the prospective rental property and landlord
Choose RentOnCloud to gain incredible insights revolving rental property in the UK!
RentOnCloud is a revolutionary platform in the virtual rental management space that can support both landlords and tenants immensely. We have a great set of functionalities to help landlords address their rental property needs and manage aspects like tenant referencing. Tenants can also land their dream rental property with our assistance in the most efficient way possible. Our team also comes with useful rental property information from time to time. Contact us today to know more!